Martial Arts Training at Home
There are a lot of books these days on solo training. Martial arts training at home.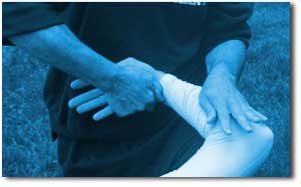 Home study doesn't always have to be training alone. Martial practice could be performed solo (or sola), but it doesn't necessarily have to be.
In fact, at some point, if you want to make your training practical, you will definitely need a practice partner.
Note: I am not criticizing solo martial-arts practice. In fact, I practice punches and kicks daily. I also either go through the first form in wing chun, sil lum tao, or I practice a little chi gung. As I said, all of this is done without anyone else around.
Let's take wrist locks, joint locks, and arm bars as a training example:
I could devise all sorts of training devices and exercises for you to practice locking on your own. In fact, martial artists write regularly to the ezine
Martial Arts Mastery
(I am the editor) asking for methods to practice locking on their own.
Realistically, to get the feel of a good strong lock, you need a wrist to lock. It's like the old argument for riding a bicycle -- you can read all of the instructions you want for getting on a bike and making those spokes spin, but until you actually hop on a two-wheeler ....
You need the practical experience. It's mandatory. Without the practice on a living,. breathing human, the chances are enormous that you'll never effect a lock in a real self-defense situation.
Fortunately, your partner can play a passive role in your training. For example, when my wife practices the two wrist lock patterns from Wrist Locks: From Protecting Yourself to Becoming an Expert, she grabs one of my hands.
Kate practices flowing from one lock to the next, while I ... read a book or watch tv.
If you are going to primarily do your martial arts training at home, then you need to figure out the perfect mix for your martial sessions.
Use alone time to practice the basic movements. This is perfect time for ³perfecting precision punches,² for example.
This is also the time to practice all of the strikes that revolve around wrist locks:
* You might punch before you joint lock. This loosens and shakes up your opponent.

* Maybe a distraction of a kick would be perfect, as you lock.

* And if you have a resister, you could hit while you have a lock on, to exert more control.
All of these hits can initially be practiced on your own.
Along with your solo practice, you'll get a practice partner. If it's a passive partner, then you effect the lock, and barely start the strike that may fit. Don't let your passive partner know that you are taking it beyond an easy lock. (Always avoid causing pain to your passive practice partner. Otherwise, you'll lose him or her.)
Finish the rest of the hitting or kicking motion in you mind. Imagine the follow-up hits.
When you finally find someone who wants to actively train, then you can mix this all of the above together. You can hit, lock, hit some more, practice counters, and practice counters to those counters.
And guess what.
All of the solo practice and passive martial-arts partner practice will pay off. You may even have some advice to share with your training partner.
Good luck.
---
Of all of the martial arts books written by Keith Pascal, Wrist Locks: From Protecting Yourself to Becoming an Expert is the book that martial artists enjoy working through with a partner the most.
The book lends enthusiasm to the practice session. Each partner feels success as he (or she) learns to counter all locks effected. The reversals are smooth.
Read more about Wrist Locks ....
Wrist Locks is one of the most practical books for training at home. Find out all about this ebook now.
Or
Click Here, to Download Wrist Locks and Take Control.